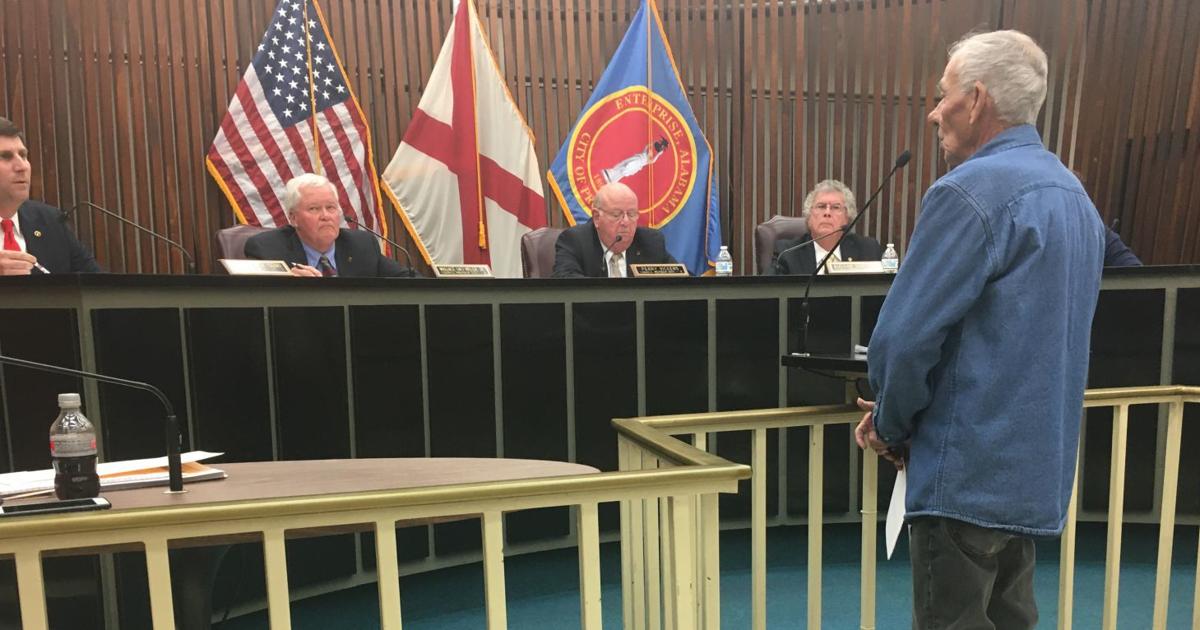 It wasn't without a heated discussion, but Enterprise will get a bigger and better movie theater after City Council approved a loan deal to Clark Theaters to help it complete its expansion at Tuesday night's meeting. .
In a 4-1 vote, the council agreed to make two loans totaling $925,000 to Clark at the same interest rate at which the city borrows money. The first loan is for $800,000 and will be distributed to Clark once the expansion project is complete. Clark will begin repayment one month after the funds are distributed, and the term is 15 years in monthly installments.
The second loan is for $125,000, which will also be distributed to Clark once the project is complete. No cash payments will be due on this loan for two years, but after that it will be amortized over 13 years and repaid in monthly installments. Its amount will be reduced by the city's share of sales taxes paid by Clark's customers.
Two citizens came forward to oppose the project. David Rove was concerned that the city was lending money to a private entity.
"If I own a business and I come in and ask you for a million dollars, are you going to give it to me?" Rove asked. "It's everybody's money. … Why not go vote and see if people want you to spend their money?
Bruce Miller said the city faces a lot of expenses. He noted the doubling of garbage collection, as well as the reduction in recycling. He pointed out that Main Street needed to be redone, that more police were needed here.
"I don't understand why we're loaning a million dollars to a private company when we have expenses to settle in Enterprise City," Miller told the board.
Robbin Thompson, president of the Wiregrass region of River Bank & Trust, spoke on behalf of the project. He likened the extra $925,000 to an economic development incentive rather than a loan to an individual or business. He said it was common to provide incentives to attract businesses to the area.
"Here we have a local industry with an investment of $12 million to $13 million with 40 employees plus additional employees after the expansion," Thompson said.
Council member Turner Townsend explained that this was not a mutually exclusive transaction – that the city was not cutting recycling services so they could provide a loan.
"We need growth in our retail business base — which includes moviegoers," Townsend said. "The city will only repay this debt if the project fails. So the question is, do we think the project has any merits? Otherwise, let us open the coffers of the city as a handout. It is not what it is.
Townsend said the city was not going out of pocket for the project.
"It's conduit financing. We are simply a conduit that the project uses to secure funding," Townsend said. "There is funding in place to build the project. It is the city that receives the last funds. Again, this is not from our general fund. … We are the conduit to which the project receives the final $925,000.
Council member Al Miller was the only dissenting vote – and he initially said he was enthusiastic and supportive of the project.
"But my concern, the city, based on the document, we're getting a third mortgage on the loan," Al Miller said. "The problem I have is that we are taking the place of a lending institution and lending taxpayers' money for a third mortgage. I tried to learn a little about it. If you are the third mortgage, you are the last in line if there is anything left.
Mack Clark Jr. said he was "very happy" to have obtained board approval for the loans. He is enthusiastic about the project, which represents an investment of approximately $13 million.
"We are extremely proud of what we are doing now. We bring a lot of people from all over Wiregrass. In our old location we had people going to Dothan. Now we have people from Dothan coming to the Enterprise," Clark said after the meeting.
Currently, cinemas have 10 screens.
"We are adding two large auditoriums. The total seating capacity of both will be just under 500 seats," Clark said. "All seats are power recliners, like we have now. We're adding more restrooms, more parking. The screens will be huge. One auditorium screen is 74ft by 42ft. The other is close this side.
He added that the latest Dolby sound system will be added. Laser projection will be used.
"We hope it will attract a lot more people," Clark said. "We have people who come regularly from around Panama City. We have people from all over Wiregrass.
In other matters, the Board unanimously:
(bullet) Submitting a recommendation from the Corporate Planning Commission to approve an application by Michael S. Brooks to rezone a property from R-85 (residential district) to B-3 (freeway business district) at 1408 E. Park Ave. A public hearing will take place at the regular meeting scheduled for February 4.
(chip) Passed the "Inclement Weather Preparation Sales Tax Holiday" from Friday, February 21 to Sunday, February 23 at midnight. Covered items will include items such as batteries, tarps, plywood and radios with a selling price of $60 or less.
(bullet) Approval of an addendum of additional services for Barge Design Solutions, Inc., for $8,250. The addendum calls for an additional 22 miles of streets as part of the city's road assessment project.
(bullet) Approved the rezoning of property owned by Worthington Millwork, LLC from M-1 (Light Industrial District) to M-3 (General Industrial District) located at 114 South Conner Street.
(chip) Approved the rezoning of property owned by Angelia R. Stokes from B-2 (Downtown Business District) and R-75-S (Residential District) to R-75-M (Residential District) located at 205 East Adams Street .
(bullet) Approval of accounts payable for December 2019 for $727,430.48 as follows: $552,311.04 for the City of Enterprise and $175,119.44 for the Water Works Board.
(bullet) Approved contract billings to SA Graham Co., Inc., for $93,607.06 for airport apron rehabilitation; to Barge Design Solutions, Inc., for $10,299.11 for the refurbishment of the airport apron; and another to Barge for $73,373.20 for the terminal building.
(bullet) At the end of the meeting, Mayor Bill Cooper recognized three Boy Scouts in attendance. He also listed the dates (January 13-24) for upcoming baseball and softball registrations, as well as mentioning parks and the recreational basketball season is underway at three city gyms.
(bullet) During the council business session, council chairman Perry Vickers again congratulated the city on winning the VA house project. He thanked the work of Wiregrass Economic Development Corporation Executive Director, Jonathan Tullos, and shared an impressive list of WEDC accomplishments. Since December 2017, this entity has been directly involved in projects totaling $305 million that will add more than 1,200 jobs to Coffee County.