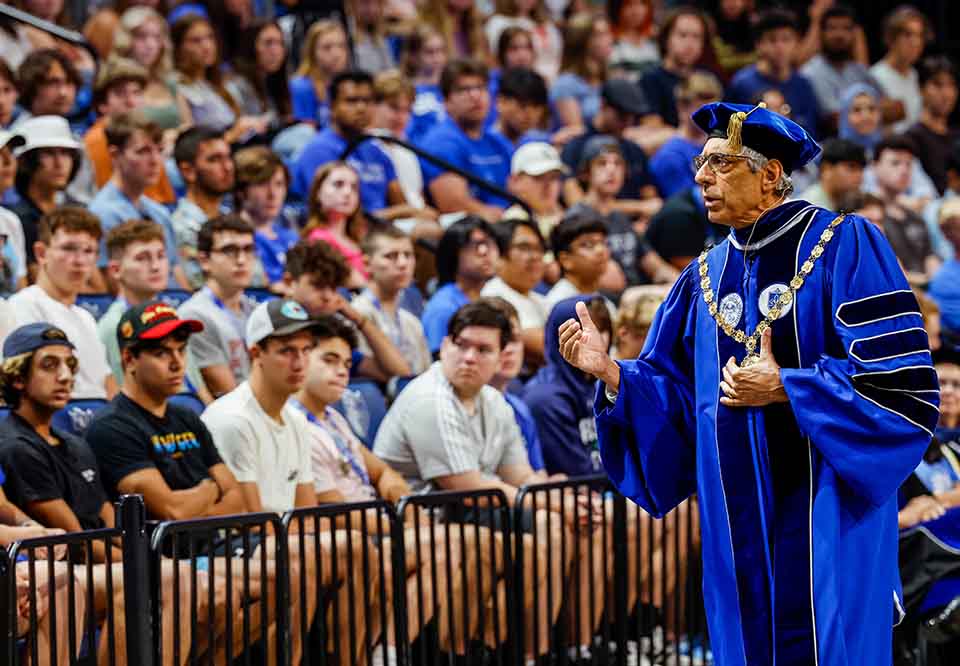 08/20/2022
Saint Louis University has officially welcomed its new Billikens to the Convocation campus.
Fresh out of their move in, the students participated in the 2022 New Student Call and Welcoming Families at Chaifetz Arena on Saturday morning. Incoming students heard from fellow students, faculty members, and administrators about what to expect at SLU.
University 2022 Convocation at Chaifetz Arena on August 20, 2022. Photo by Sarah Conroy."/> Start slideshowPresident Fred P. Pestello, Ph.D., greets new students during the Saint Louis University 2022 Convocation at Chaifetz Arena on August 20, 2022. Photo by Sarah Conroy.
President Fred P. Pestello, Ph.D., called Fall Welcome and Convocation his favorite week at the University.
"This event is where we welcome you, new members of the Billiken family," he said. "Today, this week, you become a Billiken."
Pestello said the #1 question students are asked as an SLU student is to explain exactly what exactly a Billiken is.
"What is a Billiken? Never fail to respond that a Billiken is a mythical figure that represents the way things should be," Pestello said. "I can think of no better mascot for the University than something that represents things as they should be.
"We're serious – deep down inside what we're trying to do is make the world the way it should be, make this university the way it should be and now you're part of that effort."
Pestello explained the aims of the University and explained how Catholic and Jesuit SLU is, but also international thanks to its Madrid campus. SLU is also an urban campus in the heart of Saint-Louis.
The SLU president told the story of a wedding he attended this summer. Two college alumni who met at SLU 101 got married this summer and invited Pestello to be part of the ceremony. The wedding was the end result of the first steps the alumni took to meet new people and make the most of their time at SLU, he said.
"You'll develop a lifelong friendship, maybe you'll find your match," he said. "But nothing happens if you're holed up in your dorm. You have to commit, it's absolutely essential.
Vice President for Student Development Sarah Cunningham, Ed.D., told students that SLU's goal is not to make sure students get good grades. SLU's goal for students is greater.
"When we invited you to become a Billiken, it wasn't just to enroll at SLU and graduate, but it's to thrive and be the architects of your own Billiken experiences," Cunningham said. "I hope SLU 101 has given you a sense of our commitment to setting you up for success. The work and learning that will take place in the classroom is tremendous, but we are deeply committed to helping you grow in as a whole person – cura personalis, caring for the whole person.
Aric Hamilton, a senior student at the College of Arts and Sciences and president of the Student Government Association, shared his thoughts on what it's like to be a student at SLU.
"As students at SLU, we are oriented to a higher calling beyond ourselves," Hamilton said. "No matter where our religious, moral, or ethical compasses lie, our vibrant and rich identity as a Catholic Jesuit institution is transcendent and permeates the SLU experience and defines what it means to be a Billiken. Our institutional mission calls us to seek truth, seek justice, and find God in all things. To engage in this mission is to engage in fairness, a faithful, relentless, thirst-quenching, soul-filling, life-changing fairness that you cannot rest in. After all, we who believe in freedom cannot rest until it comes.
Hamilton encouraged his comrades to learn and grow at SLU, but also to remember who they are on the inside.
"If there's nothing else you do while you're here at SLU, stay true to your authentic self," he said. "Speak to the power of the unique gifts and talents you bless our community with. Now is not the time to scrunch your shoulders and keep your head down.
Ellen Crowell, Ph.D., associate professor of English and director of University Core, noted that students occupying the seats at Chaifetz might find themselves in different places upon entering SLU. Some have majors already decided on and a career to pursue. Others are still looking.
"No matter how you come to SLU, you have a vital role to play in the university-wide conversation we call our academic core," she said. "Our core asks you to see your chosen major in conversation with and enhanced by issues you encounter in courses outside of your major – issues that could, in turn, lead you to minors or even second majors , major thirds or even a minor."
Crowell told students that each core class would be different, but the goal is to develop well-rounded students who learn first-hand what it means to care deeply about something.
"As SLU faculty, we are committed to showing you why we are passionate about our own subjects, not because we want you to engage in our own study disciplines, but to show you the joy of engaging. into something – something true to who you are now, but also true to the person you want to become," she said.
Vice President for Mission and Identity David Suwalsky, SJ, Ph.D., emphasized that the student journey at SLU begins where it will eventually end. The call and start takes place at Chaifetz Arena.
He told the gathered students that they should know that everyone at SLU is part of the same community – a community for and with others.
"No one at SLU is an inconvenience, but not a cog in the wheel, another piece in the big blue machine," Suwalsky said. "We are all people with dreams, ideas and hopes for the future, all worthy of respect and opportunity. And we fight hard to make this campus, this city and our society fairer, more fair, more like the Lord wants our world to be.
Pestello closed the ceremony by telling the students that SLU cares about each and every one of them and reminding them that from this day forward they are Billikens.