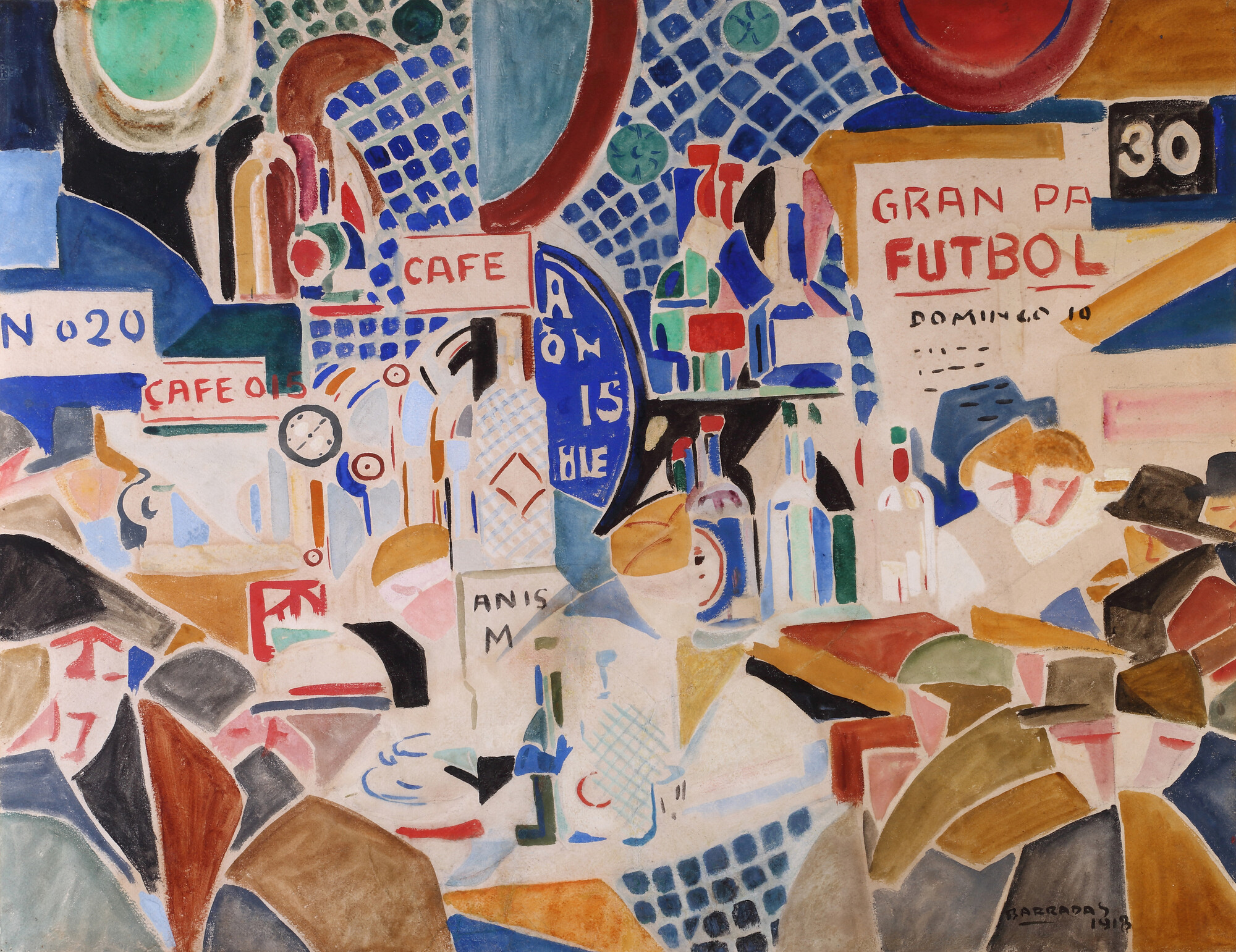 Rafael Barradas
Hombre Flecha [Arrow Man]
September 21, 2021
Opening conference: September 20, 5 p.m., with Enrique Aguerre, director of the MNAV and curator of the exhibition, and María Amalia García, chief curator of Malba
MALBA

Avda. Figueroa Alcorta 3415

Buenos Aires

Argentina
Hours:
Wednesday to Monday from 12 p.m. to 8 p.m.
On the occasion of Malba's 20th anniversary, the museum presents an anthological exhibition of the great pioneer of the avant-garde, Rafael Barradas (Montevideo, Uruguay, 1890-1929). In collaboration with the National Ministry of Education and Culture of Uruguay, the exhibition features more than 130 works, including oil paintings, watercolors and works on paper: bringing together pieces from the National Museum of visual arts (MNAV) with other important private and public collections in Montevideo and Buenos Aires.
Organized by Enrique Aguerre, director of the MNAV, the exhibition focuses on one of the artist's most fruitful periods: 1913-1923, when he lived in Barcelona and Madrid. There he laid the foundations of his own aesthetic idea: "vibrationism", an "-ism" that was uniquely and personally his, and consisted of decomposing cityscapes in a geometric way to capture modern urban dynamics – following the notions of cubism and futurism. .
"At 22 years old, Barradas reaches his limits in his native country and has the ambition to learn more about the art produced on the old continent at the beginning of the 20th century to integrate it into his own visual language of before. guard which he called vibrationism. », Explains Aguerre. "We will focus on the years between 1917 and 1921, when he established new approaches to vibrationism and its connection to theater. Even though Barradas has experimented throughout his career, this particular period is one of the most relevant for his production.
During these years, Barradas met Joaquin Torres-Garcia and attended artistic encounters with poets, critics and artists such as Salvador Dalí, Luis Buñuel, Federico García Lorca, Ramón Gómez de la Serna, Guillermo de Torre and Norah and Jorge Luis Borges, Norah and Jorge Luis. At the same time, he produced drawings for various graphic media and several magazines of the ultraist movement, of which he was one of the main representatives.
The exhibition in Malba will also feature a selection of the work of Joaquín Torres-García, alongside that of Barradas, to recreate the connection they had and show how their works correspond to each other, both of which are so important to Latin American modernism.
The title of the exhibition Hombre Flecha [Arrow Man] was taken from a letter that Barradas sent to Torres-García (L'Hospitale, April 7, 1926) in which he reflects on their two creative processes by associating them with that of Pablo Figari:
"The same thing that happened to Figari is happening to us. It's the only thing that's got to happen. A man who walks, like us. An arrow man, an arrow with a target. Even if it doesn't hit the target, it's the most important – and perhaps the only vitality – to have a goal. An arrow without a target is not an arrow: as is the case with many men.
Fragment of a letter from Rafael Barradas to Torres-García. Quoted in Pilar García-Sedas, "J. Torres-García and Rafael Barradas. Un diálogo escrito: 1819-1928 ", Parsifal editions, Barcelona, ​​2001, p. 243.
The curation will also address the relationship between Rafael Barradas and his sister Carmen Barradas (Montevideo, 1888-1963), a well-known pianist and composer, who interacted creatively with her brother. His musical pieces were truly a source of inspiration for him. The trilogy Manufacturing, Fundición Yes Aserradero is a clear testimony of their artistic collaboration, reinforced by numerous documents, scores and musical records. The exhibition will highlight the influence of Carmen Barradas on her brother and highlight their special bond.
Opening conference (in Spanish)
Rafael Barradas: Hombre Flecha
Participants: Enrique Aguerre, director of the MNAV and curator of the exhibition and María Amalia García, chief curator of Malba
Monday, September 20, 5 p.m.
YouTube Malba