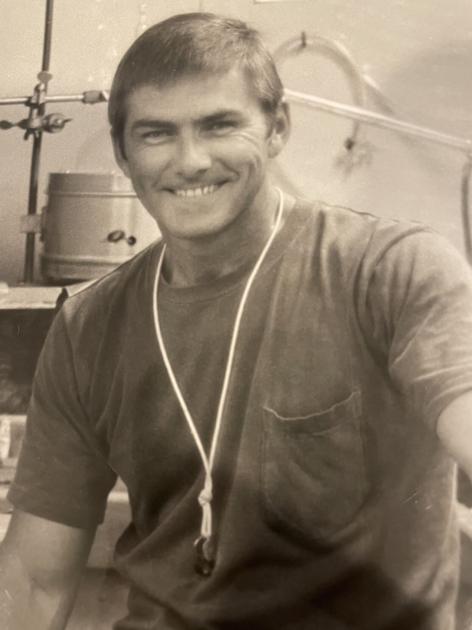 Thomas (Tom) Jewell Freeman, Jr., aged 88, died on September 17, 2021 at Lenoir Woods in Columbia, Missouri. Tom was born in Miami, Florida on September 30, 1932 to Tommy and Ethel (Bell) Freeman. He grew up in Hot Springs, Arkansas, and had been married to his wife Peggy Holt Freeman for 66 years. Tom and Peggy have been active members of the Fairview United Methodist Church for many years. There will be a family funeral service at Holt Cemetery in Arkansas.
At the end of a difficult childhood in Hot Springs, Tom joined the United States Marine Corps at the age of 17 and served in the Korean War. After the war, the GI Bill sent him to the University of Arkansas. He decided to pursue a degree in geology and graduated from the University of Arkansas with a BS and MS in geology, followed by a doctorate in geology from the University of Texas.
Tom was hired by the University of Missouri in 1962 on a short-term teaching assignment, then after a brief return to Arkansas to work for the Arkansas Geologic Survey, he was offered a full-time position at Mizzou in 1964. Tom retired from Mizzou in 1999.
Tom's career has always been a source of both welcome challenges and immense fulfillment in his life. He was chairman of the geology department for many years and he did a lot of teaching and fieldwork in Spain, including teaching at the University of Madrid (in Spanish) in 1969/70 and leading a group of geologists for the Geological Society. of America through Spain in 1971. His published research on his work in Spain earned him an International Award in London from the Society of Economic Paleontologists and Mineralogists.
In addition, he was resident geologist at the Antilles marine biology laboratory in Sainte-Croix, in the Virgin Islands; he worked on stage 44 of the Glomar Challenger offshore drilling project; he was director of the Mizzou geological field camp (Camp Branson) in Wyoming for many summers; and he is the author of three student laboratory and field textbooks which are still in publication.
But no aspect of Tom's career was as important to him as the student. He really loved his students and his teaching. Tom has received numerous teaching awards at Mizzou, including the Curator's Distinguished Teacher Award, the MU Alumni Association Distinguished Faculty Award, and the William T. Kemper Fellowship for Teaching Excellence. Nationally, Tom received the Neil Miner Award from the National Association of Geoscience Teachers. He was supported for many years after the end of his teaching career by the many students who saw him (one as far away as Barcelona) and approached him on the streets and told him 'you were the best teacher that I' never had ".
Tom was the first in his family to obtain a graduate degree and he came to see education as extremely important at all levels. The education that the GI Bill gave him allowed him to touch many lives and have countless experiences and adventures that would not have been possible otherwise.
Outside of his busy career, Tom enjoyed playing racquetball and his many rides on his BMW motorcycle (one with Peggy in the back touring Europe). His sabbaticals and long trips were often shared with the family. Other activities he enjoyed with his two boys were ice hockey at the ICE chalet and the banjo in Mountain View Arkansas. He was delighted to spend time with his three grandsons who became fans of tigers and lovers of Columbia's Booche burgers.
Above all, Tom was a truly beloved husband, father, grandfather, friend and role model.
Tom is also survived by his son Tom and wife Dawn of Greenville, SC, and daughter Hartley (Chad); his son Rob and wife Nancy of Overland Park, KS and their three sons Thomas (Kelsey), Scott (Jess) and Jack; her sister Shirley Boyajian and her brother Bob Freeman of Hot Springs, AR; nephew Steve Boyajian (Julie) of Nashville, Tennessee; and brother-in-law Jack Holt, Jr. (Jane) and daughters Kelley and Candace (David) of Little Rock, AR.
You are irreplaceable TJ !!!
Donations can be made to:
memo: Freeman Student Scholarship Fund
Department of Geological Sciences
Attention Marsha Huckabey
3050 Interstate 70 Dr. SE, suite 100